A Message to All I Aloha Molokai Supporters
The State of Hawaii is heavily into election campaigns.  As always, I Aloha Molokai chooses to remain out of the fray.  To this end,  the Executive Board has decided to suspend all major public activity until after the 2014 elections.  This does not mean that the Board and supporters alike will not be watching what is going on in our State with relation to politics or energy issues.  If it is discovered IAM is needed, we will alert our supporters and spring into action.
Please check back here at our website to see if there are any posted calls to action.  IAM has been very successful in preventing the windmills from coming to Molokai, helping to shape the current PEIS draft, keeping the undersea cable from landing on Molokai, providing outreach and education, creating the MCEI and many other activities.
We will continue to monitor the Hawaii stage and plan to reactivate the MCEI in the near future.
As always, thank you for your continued support!
To Be Clear…..
I Aloha Molokai is going on the record to be clear on it's position on renewable energy projects for Molokai and the State of Hawaii as a whole.
We agree that renewables are vital to the reduction of the State's carbon foot print, we agree that well thought out, viable renewable energy projects are needed for Molokai, we agree that developers that can provide renewable projects should step-up and propose fossil fuel alternatives, we agree that solar projects throughout the State are helping Hawaii meet its renewable goals, we agree that more affordable solar systems should be made available to enable all consumers the opportunity to secure them, we agree that the HECO companies should improve its outdated facilities, we agree with the legislature that bottom-up planning as outlined in HCR 189 should occur on every Hawaiian island.
By supporting all these issues, I Aloha Molokai remains committed to its mission to oppose windmill farms on Molokai, oppose an undersea cable to either Molokai or Lanai and to seek out viable renewable energy projects for the island.
IAM strives to accomplish its mission to find renewables that fit into the Molokai community with minimal disruption to daily life while providing rate relief and system reliability to Molokai's residents.
IAM created the Molokai Clean Energy Initiative (MCEI) to help meet these goals.  IAM continues to invite anyone with ideas on how Molokai can be energy independent to attend either IAM"s monthly meetings or the MCEI meetings.
We will not waiver in our belief that transparency and partnerships are the way in which projects for Molokai can and will work.
IAM strives to maintain positive communication with Federal, State, County and Community organizations in order to facilitate a productive MCEI process.
If IAM takes a stand in opposition to a particular project, action or piece of legislation it does so because there has been a violation of either I Aloha Molokai's mission or HCR 189.  We stand behind our convictions and hope that in time our efforts will help to facilitate energy projects that will help Molokai attain fossil fuel independence at a price that everyone can afford.
I Aloha Molokai officially opposes HB1942 & SB2754
I Aloha Molokai has submitted testimony on both HB1942 & SB2754.  Both bills are set to be heard by the House and Senate on Tuesday, February 11, 2014.  These bills offer 50 million dollars in bonds for the Ikehu Molokai project proposed by Molokai Ranch and Princeton Energy.
IAM opposes the bills based on the Resolution 189 which we wrote with the House that mandates "bottom-up" planning on all the Hawaiian islands.  The Molokai Ranch and Princeton Energy Ikehu project falls short of the intent of this Resolution.
Although Molokai Ranch and Princeton have met with IAM and various other community groups about the Ikehu project, they have failed to produce ANY project supporting documentation.  When asked to provide engineering reports, financial projects or any other plans, they cannot.  IAM believes it is a mistake to allocate funds for projects that have not been vetted or put through the proper bidding processes.
Perhaps Molokai Ranch and Princeton Energy can present the full plan in the near future to gain the support here on Molokai that they need before going to the Legislature for funding.
I Aloha Molokai does support projects that reflect the intent of Resolution 189 and looks forward to partnering with companies that agree with our planning philosophy.
Although testimony is closed for the House version of the bill, testimony closes at 2 pm today for the Senate version.  Click the links above to view the bills.  Also, emails can be sent to all Committee members.
IAM appreciates your continued support.
Have the Senators who are authoring SB2754-2014 spoken with the Molokai Community?
Perhaps Senators English, Gabbard and Baker have spoken with Molokai community members about SB 2754-2014,  but I Aloha Molokai has not been contacted.  In fact, Senator English still refuses to speak to anyone from IAM.  Why are we giving public money to a California company that has not gone through any kind of open or competitive bidding process?
Henry Curtis addresses Ikehu
Ikehu Molokai: Does green energy require green planning processes?
Princeton Energy Group has proposed generating all of Moloka`i's electricity from renewable energy.  The Ikehu Molokai proposal would rely on solar, water and biofuels
Solar energy would pump water uphill to reservoirs during the day. The water would be sent downhill through a turbine system to generate electricity when it was needed
The existing MECO generators would be converted to biodiesel
Princeton Energy Group signed a lease with Moloka`i Ranch and plans to have the project up and going by 2016.
In December 2013 Princeton Energy Group's CEO Steve Taber told Moloka`i News that the project will cost "tens of millions of dollars," adding, "It will come from a group of investors that have not yet been determined."
Princeton Energy Group has a lot of experience arranging for federal taxpayer funds to build wind farms. In this case they are turning to the State.  Senator English is the lead author for Senate Bill (SB) 2754-2014.
The bill "authorizes the issuance of special purpose revenue bonds to assist Princeton Energy Group or a related special purpose entity with the financing of the planning, design, and construction of a renewable energy project with energy storage technology on the island of Molokai."
The first order of business is determining where the facilities will be built and how they will impact existing cultural sites. That decision has apparently already been made by Princeton. Some cultural groups are concerned about the choice.
The community wants transparency.
Residents want to know how many permanent and temporary local jobs will be created. Princeton does not know or will not say.
I Aloha Molokai wondered what would happen if Moloka`i becomes 100% renewable? Will rates actually go down? Furthermore, will it diminish the ability of Molokai residents to put up their own rooftop PV systems?
The questions hung in the air.
Princeton is unsure whether an Environmental Impact Statement is needed.
CEO Taber

 

told Pacific Business News that "Our goal is to bring rates down, eliminate carbon footprints and stabilize and strengthen the grid." He added, "To accomplish all this, we need renewables."
It is unclear whether he meant current rates or long term average rates, or whether he was factoring in oil prices in the analysis.
The 2008 Hawai`i Clean Energy Initiative (HCEI) assumed that renewables would raise rates in the short term. In the long run, oil prices would rise faster than, overtake and surpass the cost of renewables. Thus over decades, the average price of renewables would be cheaper.
Taber added, "We are in the process of getting the community's support."
The first steps would involve releasing a draft plan, having an open public discussion and meeting with energy stakeholders.
However in for this proposal, the first opportunity to get meaningful responses may be at the State Legislature when SB 2754 comes up for a hearing
UPDATE
IAM is planning on attending a hearing about the sea cable as well as another hearing about the Maui County sea cable. We are trying to stay on top of the evolving issues and some back door meetings about energy in Hawaii. So stay tuned. Below are some interesting articles about energy….
Henry Curtis….
Discovering the meeting was a fluke. 
Did the meeting trigger rules regarding ex parte communications?
The Convoluted History of Geothermal in Hawai`i
Hawai`i Geothermal include false histories, blowouts, fracking, unionization, and much more
Tomorrow ——> The Ethics of Secret Meetings
In a couple of months the U.S. Department of Energy will release its long awaited undersea cable DRAFT Programmatic EIS
The real threat is not the everyday problems, which will get much worse, but rather the increasing intensity and severity of 100-year events
Accept One Wind Project and You Might Get Two
The Kahuku community accepted a wind farm. 
Now another wind company has proposed building a wind farm that will wrap around their community. 
HECO has challenged the community's request to be in the PUC proceedings.
HAPPY NEW YEAR
We created a film entitled, Our Molokai, a few months back in order to show people the real beauty of the island.  Only a limited number of people had seen the film as we were not sure when and where to release it publicly.  Unfortunately, a "pirate" copy surfaced, so we decided that there is no time like the present.  Please enjoy this beautiful film by clicking:  OUR MOLOKAI
I ALOHA MOLOKAI PRESS RELEASE
IAM regrets to announce the cancellation of our 3rd Alternative Energy Festival, scheduled for January 14. We had hoped once again to host vendors, speakers, and vigorous public discussion of energy options for our island, and our state. Recent confidential negotiations between Molokai Ranch, California wind developer Princeton Energy, Maui County and Maui Electric Company, however, have cast doubt on our ability to keep the Festival as transparent and neutral as the previous two.
These negotiations concern a proposed 25 Megawatt Solar Farm with pumped hydro backup, to be placed on Ranch land above and below Manila Camp. While the project sounds promising, many basic questions remain unanswered. Moreover, Maui County's premature endorsement of the project, before any public meetings have been held, risks giving project developers false confidence about community buy-in.  According to the December 4th Dispatch, Princeton Energy CEO Steve Taber "does not plan to hold a meeting with the entire community." Certain of the negotiating parties are already reported to be executing "non-disclosure agreements."
Among the questions which need answering are: What would be the impact on Manila Camp? Has anyone asked those residents what they think? Why didn't the County schedule public meetings to explain the project and gather input before they endorsed it? This is, after all, the whole point of bottom-up planning, which was the goal of IAM's Molokai Clean Energy Initiative. This is also the whole point of our Resolution, HCR 189, which endorsed bottom up planning statewide and received unanimous support from our Legislature.
How will this project affect MECO's Molokai grid? What upgrades would be needed? What would they cost? Who would pay for them? How will this project impact our grid's ability to accept more residential solar? Can this project provide island scale emergency backup? What guarantee do we have that this new wind company will not purchase Pattern Energy's entitlements and revive the industrial wind/undersea cable plan? This project does switch us to renewable energy. In theory, it also promises to reduce our rates; but in practice, with projected and probable costs, it's hard to see how rates won't go even higher.
IAM has never opposed appropriate development for the Ranch or for Molokai. We would love to support a project like this, if it checks out and wins broad community support. We have simply insisted that large projects follow an open, public and democratic process. This isn't much to ask. Securing community buy-in first clearly saves time and money down the road. The Hawaii Natural Energy Institute, for example, has understood our request, and has reshaped its proposed battery project accordingly. The Princeton project could also be a winner, but only if its drivers are willing to brake for democracy.
I Aloha Molokai
Moloka`i Community Concerns Over Latest Energy Proposal
"IAM has never opposed appropriate development for the Ranch or for Molokai. We would love to support a project like this, if it checks out and wins broad community support. We have simply insisted that large projects follow an open, public and democratic process. This isn't much to ask. Securing community buy-in first clearly saves time and money down the road. The Hawaii Natural Energy Institute, for example, has understood our request, and has reshaped its proposed battery project accordingly. The Princeton project could also be a winner, but only if its drivers are willing to brake for democracy."
There are behind the scene actions occurring. Maui County is believed to have given its endorsement to the proposal. Some parties are reported to be executing "non-disclosure agreements."
According to the Molokai Dispatch,
Princeton Energy CEO Steve Taber "does not plan to hold a meeting with the entire community."
The Solar Farm and Pumped Storage Hydroelectric are planned for Manila Camp. Has the developer met with the residents of Manila Camp? Are there alternative sites under consideration?
Princeton said they might use a vanadium battery instead of pumped storage hydroelectric. What impacts would that have?
Is Princeton engaged in top-down or bottom-up planning?
IAM believes in a bottom up approach. The Legislature passed IAM's Resolution (HCR 189) which endorsed bottom up planning statewide and received unanimous support from our Legislature.
IAM has been holding monthly meetings with federal, state and county regulators, politicians, utilities, renewable energy companies and policy wonks. IAM is actively engaging the community with annual energy festivals.
Princeton proposes to make all Moloka'i electricity from renewable resources and sells it to MECO which would re-sell it to customers. If the electricity is 100% renewable then what happens if a customer installs a net metered solar system on their roof?
Would MECO accept it? Would the Public Utilities Commission allow it? Would Princeton expect a payment for their lower sales of renewable energy?
Princeton has said that under their scheme rates will go marginally down.
On-site solar installations currently cost 40-50% of the cost of grid-based electricity. The price of solar panels is expected to drop 5-7% a year for the next several years.  Why would anyone favor being locked into a 20-30 year contract at rates perhaps marginally lower than they are today, when truly lower rates are around the corner?
Princeton Energy Group is a wind company. They build wind systems throughout the world. They are proposing wind farms in Mexico to feed California's energy appetite.
How do they feel about the inter-island cable?
"We were on sidelines for the Big Wind project, but we were kind of offended by the project — it was way out of scale," said
Princeton Energy Group CEO
Steve Tabor.  "We said we're interested in doing something smaller scale that addresses the needs of the island."
Considering that Steve's wife has been coming to Molokai for years, it is odd that they didn't say something sooner. On the other hand, the Board members of Princeton are involved with numerous other wind companies and one of their Board members was the former President of the American Wind Energy Association.
So perhaps the after-the-fact, "we didn't support Big Wind" is less than credible.
Meanwhile the State will not give up the idea of interlinking all of the islands. DBEDT favors AC cables between Moloka`i, Lana`i and Maui; and DC cables between O`ahu, Maui and the Big Island.
On Wednesday December 4, 2013, DBEDT Energy Administrator Mark Glick was a guest on

ThinkTechHawaii
.
"Ultimately, the biggest grid modernization aspect that we believe will have at the State Energy Office, and the Governor, believes that will have the biggest impact is the interconnection of the islands, in particular, the grid-tie between Oahu and Maui. Then ultimately, because of geothermal energy, ultimately making its way to Hawaii. We believe that will have biggest impact on creating much greater grid reliability and stability."  
The Barrel Tax (Act 73) "gave us dedicated pool funds to target high impact solutions to try to get us to our 2030 targets. We've also made it so that the network of developers and other stakeholders in this energy market have the tools and are not impeded by over regulation or by any other barriers to get this job done."
"HNEI has been a vital partner to us. It provide money for key initiatives like the Programmatic EIS which we believe, it was a game changer in perceptions about how we go about implementing our clean energy initiative, but also answering a lot of technical pieces of the puzzle.
"
There are big questions haunting the Ikehu proposal. What is being hidden from the community? Does Molokai Ranch and Princeton have side deals? Is Princeton negotiating secretly with HECO and DBEDT? Will there be efforts to seal information from public review? Are the rates fixed or do they have built in escalators?
Will Princeton work with the entire community?
Who wants to make Moloka`i Energy Independent?
Moloka`i Ranch has teamed up with
California-based Princeton Energy Group to form Ikehu Moloka`i.  Ikehu is Hawaiian for "power." 
Moloka`i Ranch proposes that its land be used to make Moloka`i electricity 100% renewable.
"We were on sidelines for the Big Wind project, but we were kind of offended by the project — it was way out of scale," said
Princeton Energy Group CEO
Steve Tabor.  "We said we're interested in doing something smaller scale that addresses the needs of the island."
The plan is as follows.
South-facing low-rise photovoltaic panels would be built on 100 acres near Manila Camp. A 20-25 MW solar farm would produce an average of 5 MW. Ikehu Moloka`i could have the solar farm operational in late 2016.
Daytime energy would be converted to nighttime energy. They believe that the probable approach is to rely on Pumped Storage Hydroelectric. An alternative and newer battery approach is the use of vanadium flow batteries.
Pumped Storage Hydroelectric accounts for most energy storage in the United States. Water is pumped from a lower reservoir to an upper reservoir during the day and is dropped at night. The pumping station will also be built near Manila Camp. The pumps would be enclosed to minimize noise.
Separate pipes allow for intermittent energy to pump water up hill, and at the same time, a steady downward flow of water can produce reliable baseload energy. 
As a back-up, biodiesel can be on-hand to fuel existing MECO diesel generators.
Ikehu Moloka`i would sign a Power Purchase Agreement with Maui Electric (MECO).
In essence Ikehu Moloka`i would act as a generation company and MECO as the Transmission & Distribution Company.
The Ikehu Moloka`i – MECO approach could be seen as a precursor to either the HECO Companies getting out of the power generation business, or getting into the wheeling business where utilities lease available space on their electric lines.
The ratepayer impact would be a slight drop in existing rates. When the Moloka`i residents form a coop, the coop would take over the Power Purchase Agreement.
Who is the Princeton Energy Group?
The Princeton Energy Group 

team

consists of six people.
Steve Taber founded Nordic Windpower and still sits on their Board of Directors. He co-founded Asociados PanAmericanos LLC of Nevada, a group dedicated to building wind farms in Mexico and selling the power to California.
Andrea Taber was previously affiliated with Nordic Windpower, a Goldman Sachs-funded wind turbine manufacturing company.
Mike Follonihelp develop the 67.5 MW La Mata Wind Park in Oaxaca, Mexico that provides electricity to Grupo Wal-Mart stores.
Dr. Richard Ely has been a principal consultant in developing alternative energy sources with Princeton Energy Group and its spinoffs Energy Nevada and Nordic WindPower.
Dr. James Walker served on the board of the American Wind Energy Association (2006-10) and was named 2007 AWEA Industry Person of the Year. He serves as Vice-Chairman and former CEO of EDF Renewable Energy, acompany which has applied for a permit to kill eagles.
On December 6, 2013 the Interior Department announced "that it has finalized a new rule that will allow renewable energy and other projects to obtain permits to injure, kill or disturb bald and golden eagles for up to 30 years, a move that pleases the wind power industry but alarms environmentalists.  …Fish and Wildlife hasn't issued any five-year eagle take permits to date, though it is considering in a draft environmental assessment to award the first-ever take permit for an existing wind farm to EDF Renewable Energy."
Molokai Ranch Reveals Plan
On Tuesday, October 29, 2013, Molokai Ranch, CEO, Clay Rumboa accompanied by Ranch Staff and the Ranch's new developer, Princeton Energy Group based in San Francisco, California,  presented a power point presentation to the attendees of the Molokai Clean Energy Initiative (MCEI) meeting.  The presentation outlined the Ranch's plans for energy on Molokai.   Mr. Rumboa and members of Princeton Energy Group have been meeting with organizations and individuals throughout the island.  I Aloha Molokai does not support or oppose what was presented to the MCEI.  Click on the link below to view the brochure.*

*Please note that the back page of this brochure could not be copied, the front of the brochure copied twice.  The back  page of the brochure directs those who would like more information about this plan to contact Dathan Bicoy at IkehuMolokai.com
Our Office Has Relocated!
Thank you to everyone who has stopped by the I Aloha Molokai office throughout this past year.  Our lease is up and we have decided to relocate.  We will still have the same phone number (808) 213-1321, the same websites: http://www.ialohamolokai.com and www.ialohamolokai.org and the same email address:  ialohamolokai@gmail.com.  Contacting us remains easy, and, we will still be happy to meet with anyone!
We would like to say  MAHALO to all the volunteers who helped to keep the office open during the weekday mornings!  Your help is much appreciated.  We could not have made all the connections that we have without you.  And, don't worry – there are still plenty of opportunities on the horizon where we will be calling for help once again.
What is the MCEI?
After five productive meetings the time has come to bring the general public up to date on the Molokai Clean Energy Initiative, or MCEI.
These monthly meetings are held at Kulana O 'Iwi here on Molokai. They are sponsored by I Aloha Molokai and chaired by IAM President Kanohowailuku Helm. Our goal is to provide both a venue and a forum for communities, organizations and other stakeholders to meet together, share ideas, and envision a cleaner, more affordable energy future for everybody.
IAM is a nonprofit, volunteer community organization, originally formed to oppose the Big Wind turbines slated for Molokai's West End. Two years ago we were approached by Molokai Ranch, our largest landowner. The Ranch wanted to discuss other issues of concern to the community. We promised we would talk, as soon as the wind turbines went away. This past Spring the Ranch canceled its lease agreement with Pattern Energy. At our first MCEI meeting we were able to keep our promise to the Ranch, and the Ranch is still participating in our discussions.
Another incentive for the MCEI came from our Legislature. Last session our own Representative Mele Carroll drafted a resolution to allow Molokai to opt out of Big Wind and the cable. Two House Committees amended and expanded our draft into a call for bottom-up planning statewide. This became House Concurrent Resolution 189, which passed unanimously. The MCEI is our effort to honor this Resolution and to set an example of bottom-up planning for the rest of the state.
We are confident this effort will continue. We invite everyone to join us, or to set up similar initiatives of their own on other islands. So far, our participants have included: Office of Hawaiian Affairs, Molokai Ranch, Maui County Energy Office, Maui Public Works, Department of Hawaiian Homes, Kamehameha Schools, Hawaii State Energy Office, Office of the Consumer Advocate, Kauai Island Utility Cooperative, Maui Electric Company, Hawaii Natural Energy Institute, U.S. Department of Agriculture, Kohala Center, Ti Leaf Group, Sustainable Molokai, Habitat for Humanity, Island Petroleum, and many others.
MCEI has already been a success. Most participants continue to attend, and also to meet and form partnerships on their own. Although we have been able to explore the pros, cons, and costs of a Molokai utility coop, IAM has not yet chosen to support any particular project or organization. Where everyone's power and wallet is at stake, we want to proceed with care and thoroughness. Once we do decide to support a particular option, we will present it to the whole community for discussion and consideration. All the information and options presented in our meetings are being recorded in minutes and collected in a matrix, which is updated each month. Matrix and past minutes are available upon request.
Mr. Helm saw early on that energy planning is closely linked with emergency preparedness. Without built-in redundancy and back up, no system is likely to function in a crisis. Several of our presenters alerted us to the fact that state disaster plans are incomplete, and that some statewide response sequences have not been established or tested.
Just on Molokai, we have a major shelter (the High School Gym) that doesn't meet current codes, a west end with no fire station, an east end with a fire station in the flood zone, and other deficiencies. By weaving the preparedness issue into energy planning now, we hope to end up not only with a better prepared Molokai, but also with a better disaster plan for the state. For example, if a tsunami were to close major sea level airports, Molokai's upcountry airfield could become a central staging area for air-borne relief – if the necessary infrastructure were put in place.
Looking forward, IAM plans to ask our Legislature to reaffirm HCR189. With our Representative, we are also hoping to explore legislation regarding emergency preparedness. This means bringing major shelters up to code, moving emergency equipment out of the flood zone, increasing energy back-up for vital services, and improving coordination with Maui and Oahu.
As we approach the end of the year, we are hoping to make our Third Annual Alternative Energy Festival a showplace for MCEI's work to date. This year we are expanding the Festival to 3 days:
On Thursday, January 9th we hope to involve Molokai students in an Emergency Preparedness Fair, with service providers, hands on demonstrations, a mock disaster exercise, and prizes for student creativity.
On Friday, January 10th we will bring back community spokesmen, energy experts, and energy vendors for a Statewide Energy Forum, building on ideas from MCEI.
On Saturday, January 11th we will host an IAM Music Festival, with food, games for kids and one or two inspiring speakers. We invite everyone to come join the fun.
Because we live on small, remote and fragile islands, Hawaii does not have the margin of error for poor planning or wasted resources enjoyed by the mainland. We cannot afford wild guesses, quick fixes, or seductive sales pitches. We have to bring everyone together, explore all the options, and make plans that meet real needs with existing resources.
We are I Aloha Molokai, and that's what we're trying to do.
For more information go to ialohamolokai.com, ialohamolokai.org or call 808-213-1231.
Governor vows to install undersea cable despite opposition

POSTED: 01:30 a.m. HST, Sep 10, 2013
Gov. Neil Abercrombie on Monday reiterated his administration's commitment to connecting the state's electrical grids with an undersea transmission cable, telling officials gathered for a global energy conference that such a strategy would allow the islands to share renewable energy resources and ultimately bring down electricity costs.
Abercrombie, in the opening address at the Asia Pacific Clean Energy Conference, said false starts in the past by policymakers and others in Hawaii's energy industry derailed efforts to reduce the state's dependence on imported oil and bring down energy costs.
"This time we are going to take full advantage and press forward relentlessly on our diverse resources such as geothermal, solar, wind, hydro, bioenergy and biomass," Abercrombie said.
"We believe that connecting the islands through an integrated, modernized grid is the best way to utilize our islands' best resources at a scale that will reduce cost. This means lower rates on the neighbor island as soon as they're connected," Abercrombie said.
Toward that end the Abercrombie administration filed comments Monday, responding to a Public Utilities Commission investigation started in July to determine whether a proposed Oahu-Maui interisland transmission system is in the public interest. Officials have said an interisland transmission cable, if approved, would start with an Oahu-to-Maui leg.
The PUC opened the investigation after a series of significant new developments regarding Hawaiian Electric Co.'s renewable-energy plans, including one to generate wind energy on Lanai and transmit the electricity to Oahu via an undersea cable. Among the developments were the sale of Lanai to billionaire Larry Ellison, and changes ordered by the PUC in the bidding process HECO used to select developers for the renewable energy proj­ects.
Abercrombie said his push for the undersea cable would not be dissuaded by opposition from several community and environmental groups on Oahu, Lanai and Molokai.
"We're committed to doing this," Abercrombie said. "We're going to do it. Our strategy is to balance technical, economic, environmental and cultural considerations," he said.
"Yes, we have to take points of view into account. But opinion that is merely opinion is not going to be good enough. It has to be science-based; it has to be reality-based in terms of the political nature of what is involved in global pricing right now where energy is concerned."
Mark Glick, administrator of the state's Energy Office, said the state Department of Business, Economic Development and Tourism hired energy consultant Navigant to help it prepare the document filed with the PUC making its case for the Oahu-Maui cable.
"We looked at it with very clear eyes. If it didn't pan out economically and technically, if it didn't provide other value, we wouldn't have supported it," Glick said in an interview.
"I think it (the PUC filing) will provide a very clear, objective, defensible position and a very strong case for why it is in the public interest," Glick said.
UNDERSEA CABLE STILL ON THE TABLE
On September 18, 2013, a Community Meeting will be held on Maui from 6 – 8 PM. Located at the Kaunoa Senior
Center, 401 Alakapa Place Paia, Maui. Organized by; Maui Tomorrow Foundation, Mayor's Office of Economic
Development and NextEra.  The topic of discussion: Electromagnetic fields from Submarine Transmission Cables
and routing options for an Oahu-Maui Cable.
Molokai is in the middle of this route for the laying of the Inter-Island Undersea Cable. If you are able to be present
for this important meeting, we strongly urge you to do so. You may also submit your comments to the Maui Tomorrow Foundation, who will share them with the County.
• Existing submarine cables in Hawaii
• NextEra's preliminary preferred cable route
• Environmental Impact Statement ("EIS") and permitting process
• Route alternatives
• Electromagnetic fields and thermal effects
• Marine species of concern in Hawaii
• Avoidance strategies
or contact: Maui Tomorrow Foundation  (808) 244-7570
55 N. Church St., Ste. A5 Wailuku, HI.96793
Undersea Cable Update:
IAM is on record opposing the sea cable ever touching Molokai or being within miles of the island because of impacts to the reef and the ecosystem. As well, a cable on Molokai means we would be fighting large scale energy projects again. Although some representatives say that the cable will not come here, there are maps that draw a cables to Molokai because it would be a cheap route. By the way, it is not one cable but as many as three that would be laid. We continue to ask if the cable is even necessary because of the extreme costs to us as ratepayers as well as the unknown consequences to the ocean and the creatures and plants that inhabit the ocean.
BOEM held a meeting early in the year and it discussed the cable as it will be laid when there has been RFP on the subject. The previous meeting is on YOUTube because IAM wanted to show how communities feel and the questions they have are not being answered by the so called experts on the subject.
HECO has said they don't need the sea cable to meet their renewable energy goals. Then why is one being discussed and encouraged by the state?  Remember there is no state energy plan, only goals.  Several companies have made it known that they want to build the sea cable.
So if you have time, tune in…..
———- Forwarded message ———-
From: Bureau of Ocean Energy Management Office of Public Affairs <john.romero@boem.gov>
Date: Thu, Aug 8, 2013 at 12:50 PM
Subject: 

AUGUST 13-14, 2013

 OFFSHORE RENEWABLE ENERGY SESSIONS
| | |
| --- | --- |
| Note to Stakeholders | August 8, 2013 |
  Dear Ocean Stakeholder,
The Bureau of Ocean Energy Management (BOEM) and the Department of Energy's National Renewable Energy Laboratory (NREL) will be in Honolulu, Hawaii next week to educate both our BOEM OCS Renewable Energy Task Force members and the public on offshore renewable energy technologies best suited for areas on the Pacific Outer Continental Shelf, and the multi-faceted complexities of such marine-based energy systems. Due to high levels of interest, we are pleased to announce that we are making the two-day event available online.

The free two-day training session will include presentations by experts from the Department of Energy's National Renewable Energy Labotratory (NREL) on offshore wind and marine hydrokinetic (MHK) technologies and will also include technical expert panel discussions. For a copy of the final agenda, please click here.

To participate via webinar please use the following:

 

Tuesday, August 13th

Call-in number: 877-951-7311   Participant passcode: 2620984

WebEx URL: https://www.mymeetings.com/nc/join.phpi=PW6246467&p=2620984&t=c

 

Wednesday, August 14 

Call-in number: 877-951-7311   Participant passcode: 8482549

 WebEx URL: https://www.mymeetings.com/nc/join.phpi=PW6246478&p=8482549&t=c

Regards,

John D. Romero

BOEM Office of Public Affairs
About the Bureau of Ocean Energy Management
The Bureau of Ocean Energy Management (BOEM) promotes economic development, energy independence, and environmental protection through responsible, science-based management of offshore conventional and renewable energy development.
For More Information: 

Caren Madsen or Blossom Robinson 

BOEM Office of Public Affairs 
Vacation is over…..back to work!
The events are coming:
IAM will be hosting our annual Paddler's Dinner for the Na Wahine O Ke Kai on September 21, 2013.  This event is open to the participants of the race and the community.  Come join us for great food and entertainment.  Call our office at (808)-213 1321 for more information.
Planning is  underway for our third annual Alternative Energy Festival.  The festival will expand to a three day event:  Thursday, January 9 – Friday, January 10 – Saturday, January 11, 2014.  If you would like to be involved in anyway, give us a call at (808) 213-1321
Bottoms UP – Enjoy our latest film!
Reason to Celebrate!
On April 23rd, the Senate voted unanimously to pass  House Concurrent Resolution 189 that was introduced by Representative Mele Carroll.  Representative Carroll and her staff worked with I Aloha Molokai to draft the Resolution that requests that the Governor engage with the islands of Molokai and Lanai in energy planning.  The House expanded the Resolution to include all islands.  In the House hearings, Representatives made it clear that top down energy planning needed to end and that planning should be inclusive and done from the bottom up to include the ideas and sentiment of all island communities throughout the State.I Aloha Molokai worked with Friends of Lanai to develop this Resolution so that it could meet the needs of both islands.  IAM would like to thank the Legislature for hearing our voice and taking this first step to engage in better planning methods.  We will continue our work to insure that Molokai and Lanai remain free of industrial wind turbines and the undersea cable.  We are also actively working on energy alternatives for Molokai.
The Resolution below is taken from the www.capitol.hawaii.gov website.  Click the website link to track how this resolution worked its way through the House and Senate.  You can also view all of the testimony that was submitted regarding the Resolution.  A big THANK YOU to everyone who sent in their support!
House of Representatives, Twenty-Seventh Legislature, 2013

State of Hawaii

 House Concurrent Resolution HCR 189 HD1

 

 
HOUSE CONCURRENT RESOLUTION
 REQUESTING THE GOVERNOR TO ENGAGE AND WORK WITH LANAI, MOLOKAI, AND THE OTHER NEIGHBOR ISLAND COMMUNITIES WHEN FORMULATING ENERGY POLICY AND IDENTIFYING ENERGY PROJECTS FOR THE STATE OF HAWAII.
 WHEREAS, the construction and operation of an interisland high-voltage undersea electric transmission cable system has the potential to improve the distribution of electricity and power throughout the State; and
  WHEREAS, Act 165, Session Laws of Hawaii 2012, authorized the construction and development of an interisland high-voltage undersea electric transmission cable system to link the electricity consumers of the island of Oahu to the wind energy generation facilities located on other islands of the State; and
 WHEREAS, although the development of the interisland high-voltage undersea electric transmission cable system is innovative and seemingly attractive, the placement of wind energy generation facilities near communities throughout the State could have a profoundly negative impact on the communities surrounding the facilities; and
 WHEREAS, wind turbines affect the beauty of the landscape, create noise pollution, impede subsistence hunting, gathering, and fishing, and pose potential risks for those who live nearby; and
  WHEREAS, residents and community groups on Molokai and Lanai have strongly opposed the construction of wind energy generation facilities on those islands; and
WHEREAS, Act 165, Session Laws of Hawaii 2012, authorizes a regulatory structure for the construction of the interisland high-voltage undersea electric transmission cable system, but does not require the construction of the system; and
WHEREAS, the community on the island of Molokai has already begun working together with the State on an island-specific alternative plan to develop local renewable energy that will be less disruptive to the environment and the community; and
 WHEREAS, energy projects face much less community opposition, delay, and legal challenges when the community is engaged early and is given the opportunity to work together with the State and energy partners; now, therefore,
 BE IT RESOLVED by the House of Representatives of the Twenty-seventh Legislature of the State of Hawaii, Regular Session of 2013, the Senate concurring, that the Governor is requested to engage and work with Lanai, Molokai, and the other neighbor island communities when formulating energy policy and identifying energy projects for the State of Hawaii; and
 BE IT FURTHER RESOLVED that certified copies of this Concurrent Resolution be transmitted to the Governor, Chairperson of the Public Utilities Commission, Mayor of each county, Executive Director of I Aloha Molokai, Friends of Lanai, Lanaians for Sensible Growth, Kupaa No Lanai, and Lanai Cultural and Heritage Center.
YOUR TESTIMONY IS NEEDED TODAY BEFORE 2 PM!
The State of Hawaii House of Representatives joint committees on Energy and Environmental Protection and Consumer Protection and Commerce will be hearing HCR 189/HR 150.   This Resolution urges the Governor and Public Utilities Commission to seek alternatives to the windmills and undersea cable proposed for Molokai and Lanai.   A group of I Aloha Molokai members along with members of Friends of Lanai will be traveling to Oahu tomorrow to testify in person.  Please help us by emailing, faxing or calling in your testimony!  See below for the actual Legislative posting of this important Resolution.
HOUSE OF REPRESENTATIVES
THE TWENTY-SEVENTH LEGISLATURE
REGULAR SESSION OF 2013
Rep. Chris Lee, Chair
Rep. Cynthia Thielen, Vice Chair
| | |
| --- | --- |
| Rep. Denny Coffman | Rep. Derek S.K. Kawakami |
| Rep. Ty J.K. Cullen | Rep. Nicole E. Lowen |
| Rep. Cindy Evans | Rep. Richard Lee Fale |
| Rep. Faye P. Hanohano | |
Rep. Angus L.K. McKelvey, Chair
Rep. Derek S.K. Kawakami, Vice Chair
| | |
| --- | --- |
| Rep. Della Au Belatti | Rep. Ken Ito |
| Rep. Tom Brower | Rep. Chris Lee |
| Rep. Rida T.R. Cabanilla | Rep. Clift Tsuji |
| Rep. Romy M. Cachola | Rep. Ryan I. Yamane |
| Rep. Mele Carroll | Rep. Bob McDermott |
| Rep. Cindy Evans | Rep. Cynthia Thielen |
| Rep. Sharon E. Har | |
NOTICE OF HEARING
| | |
| --- | --- |
| DATE: | Wednesday, April 10, 2013 |
| TIME: | 2:00 p.m. |
| PLACE: | Conference Room 325 |
State Capitol
415 South Beretania Street
A G E N D A
| | | |
| --- | --- | --- |
| HCR 189 / HR 150Status / Status | URGING THE GOVERNOR AND THE PUBLIC UTILITIES COMMISSION TO SEEK ALTERNATIVES TO THE INDUSTRIAL WIND GENERATION FACILITIES AND INTERISLAND HIGH-VOLTAGE UNDERSEA ELECTRIC TRANSMISSION CABLE SYSTEM PROPOSED FOR THE ISLANDS OF MOLOKAI AND LANAI. | EEP/CPC |
| | | |
DECISION MAKING TO FOLLOW
Persons wishing to offer comments should submit testimony at least 24 hours prior to the hearing.  Testimony should indicate:
Testifier's name with position/title and organization;
The Committee(s) to which the comments are directed;
The date and time of the hearing; and
Measure number.
While every effort will be made to incorporate all testimony received, materials received on the day of the hearing or improperly identified or directed, may be distributed to the Committee after the hearing. Those wishing to provide oral testimony will be limited to three minutes.
Submit testimony in ONE of the following ways:
PAPER:  3 copies (including an original) to Room 443 in the State Capitol;
FAX:       For testimony less than 5 pages in length, transmit to 808-586-6481 (Oahu) or 1-800-535-3859 (for Neighbor Islander without a computer to submit testimony through the website); or
WEB:     For testimony less than 10MB in size, transmit from http://www.capitol.hawaii.gov/submittestimony.aspx.
Testimony submitted will be placed on the legislative website after the hearing adjourns.  This public posting of testimony on the website should be considered when including personal information in your testimony.
If you require special assistance or auxiliary aids and/or services to participate in the House public hearing process (i.e., sign or foreign language interpreter or wheelchair accessibility), please contact the Committee Clerk at 586-9450 or email your request for an interpreter to HouseInterpreter@Capitol.hawaii.gov at least 24 hours prior to the hearing for arrangements.  Prompt requests submitted help to ensure the availability of qualified individuals and appropriate accommodations.
Selected meetings are broadcast live.  Check the current legislative broadcast schedule on the "Capitol TV" website at www.capitoltv.org or call 536-2100.
| | | |
| --- | --- | --- |
| ________________________________________Rep. Angus L.K. McKelveyChair | | ________________________________________Rep. Chris LeeChair |
| | | |
Thursday, March 14th, 2013 By Molokai Dispatch Staff
Rep. Carroll Speaks Out Against Wind Turbines and Cables
Office of Mele Carroll News Release
Rep. Mele Carroll (13th District) voiced many Molokai residents' concerns in Honolulu today, urging the Governor and the public utilities commission to find alternatives to proposed wind turbines and undersea cables on the island. Carroll introduced House Concurrent Resolution 189, which urges that island-specific alternatives be considered in order to reduce negative impacts
on Molokai and Lana`i.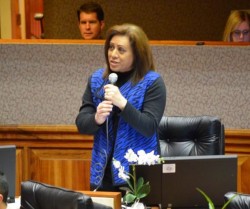 "The message from both Lana`i and Molokai residents is very clear – no wind turbines, no undersea cables," Carroll said. "I have been meeting with both islands' community leaders, and as far as they are concerned, the potential risks that turbines and undersea cables pose outweigh the possible benefits."
Act 165 of Hawaii Session Laws in 2013 authorizes the development and construction of an interisland high-voltage undersea cable to connect the wind turbines, providing energy to residents of Oahu from other islands. Carroll pointed out that although the Act authorizes construction, there is no requirement for it. In addition, Resolution 189 outlines the general safety concerns wind turbines pose to nearby residents and wildlife as well as the negative aesthetic impact on the natural beauty of the landscape.
"The residents wish to preserve the uniqueness and the beauty of their islands as natural resources, which have become an important symbol and an essential part of their everyday lives," Carroll said. "As their representative, I must assist them in voicing their opinions and a Concurrent Resolution, which passes through review of both the House and Senate and would require the State to look at other energy alternatives on the two islands. This resolution represents an important step in residents expressing their views about how they want to live on islands that are experiencing the ever-growing outside forces of change.
Please phone and write your legislators to support this important Resolution! 
Thank you Representative Carroll
—————————
March 30, 2013
Celebrate Our Way of Life
Feel the Beat in the Heart of Maunaloa
All are invited to come to IAM/Molokai Ranch's community potluck celebration at Maunaloa Rec Center on Staurday, March 30th at 1 p.m.
With the Ranch's decision to put a halt to the Big Wind Project, we celebrate the saving of our abundant Hawaiian Historical sites, the environment, the health of our people and the animals which share our 'aina.
Bring your family, friends and your favorite dish or desert.  The main dishes of venison and lamb will be provided.
You are welcome to bring your musical instruments for some grass roots sharing of entertainment, kanikapila, Molokai style!
~~~~~~~~~~~~~~~~~~~~~~~~
View our latest film:  Perhaps
______________________________________________________
Molokai Big Wind Deal Falls Apart
By Sophie Cocke 02/07/2013
Sophie Cocke/ Civil Beat
The owners of Molokai Ranch have backed out of plans to lease thousands of acres of land to a large-scale wind farm developer.
The decision likely spells the end for the Molokai portion of the Big Wind project, an ambitious plan to build about 70 wind turbines on both Molokai and Lanai and bring the electricity to Oahu via undersea cables.
Clay Rumbaoa, CEO of Molokai Properties Ltd., commonly known as Molokai Ranch, said in a statement to Civil Beat that the company has broken off negotiations with Molokai Renewables, the wind farm developer, and is focusing on its ranching operations instead…. read the full story
Films of IAM's 2nd Annual Energy Festival are now available for viewing on the I Aloha Molokai Channel on YouTube. There are seven in all:
Mahalo to all who participated and attended!
—————————————————–
NO WIND TURBINES and NO CABLE
The message to HECO/MECO was clear No Wind Turbines and No Cable on Molokai and Lanai.
Over 40 people attended the Molokai meeting and many voiced their concern about the process. Represented were many IAM members. The signatures of thousands of Molokai residents, visitors to Molokai, and concerned individuals from around the world were submitted by IAM.   Click on the image above to view the film.
Mahalo to everyone who attended and support our efforts.
—————————————————–
Please check back regularly for updates.

Visit our Channel, watch our films, and subscribe.
—————————————————–
At last week's OHA meeting, Kanoho Helm gave a presentation which included the IAM films on proposed windmill/undersea cable project. He also summarized the IAM opposition efforts and outlined the wider scope of IAM activity focusing on alternative energy sources for Molokai and community education.
.
—————————————————–
Report on Molokai Energy Future
We couldn't have said it any better than  Henry Curtis has done in Life of the Lands's Wayfinding: Navigating Hawai'i's Energy Future.
Chapter 7  – Moloka'i . presents a wealth of ideas for allowing Moloka'i to become energy independent.  Chapter 8 covers Lana'i.
Please click here to read what Henry has to say.
.
—————————————————–