Reason to Celebrate!
On April 23rd, the Senate voted unanimously to pass  House Concurrent Resolution 189 that was introduced by Representative Mele Carroll.  Representative Carroll and her staff worked with I Aloha Molokai to draft the Resolution that requests that the Governor engage with the islands of Molokai and Lanai in energy planning.  The House expanded the Resolution to include all islands.  In the House hearings, Representatives made it clear that top down energy planning needed to end and that planning should be inclusive and done from the bottom up to include the ideas and sentiment of all island communities throughout the State.I Aloha Molokai worked with Friends of Lanai to develop this Resolution so that it could meet the needs of both islands.  IAM would like to thank the Legislature for hearing our voice and taking this first step to engage in better planning methods.  We will continue our work to insure that Molokai and Lanai remain free of industrial wind turbines and the undersea cable.  We are also actively working on energy alternatives for Molokai.
The Resolution below is taken from the www.capitol.hawaii.gov website.  Click the website link to track how this resolution worked its way through the House and Senate.  You can also view all of the testimony that was submitted regarding the Resolution.  A big THANK YOU to everyone who sent in their support!
House of Representatives, Twenty-Seventh Legislature, 2013

State of Hawaii

 House Concurrent Resolution HCR 189 HD1

 

 
HOUSE CONCURRENT RESOLUTION
 REQUESTING THE GOVERNOR TO ENGAGE AND WORK WITH LANAI, MOLOKAI, AND THE OTHER NEIGHBOR ISLAND COMMUNITIES WHEN FORMULATING ENERGY POLICY AND IDENTIFYING ENERGY PROJECTS FOR THE STATE OF HAWAII.
 WHEREAS, the construction and operation of an interisland high-voltage undersea electric transmission cable system has the potential to improve the distribution of electricity and power throughout the State; and
  WHEREAS, Act 165, Session Laws of Hawaii 2012, authorized the construction and development of an interisland high-voltage undersea electric transmission cable system to link the electricity consumers of the island of Oahu to the wind energy generation facilities located on other islands of the State; and
 WHEREAS, although the development of the interisland high-voltage undersea electric transmission cable system is innovative and seemingly attractive, the placement of wind energy generation facilities near communities throughout the State could have a profoundly negative impact on the communities surrounding the facilities; and
 WHEREAS, wind turbines affect the beauty of the landscape, create noise pollution, impede subsistence hunting, gathering, and fishing, and pose potential risks for those who live nearby; and
  WHEREAS, residents and community groups on Molokai and Lanai have strongly opposed the construction of wind energy generation facilities on those islands; and
WHEREAS, Act 165, Session Laws of Hawaii 2012, authorizes a regulatory structure for the construction of the interisland high-voltage undersea electric transmission cable system, but does not require the construction of the system; and
WHEREAS, the community on the island of Molokai has already begun working together with the State on an island-specific alternative plan to develop local renewable energy that will be less disruptive to the environment and the community; and
 WHEREAS, energy projects face much less community opposition, delay, and legal challenges when the community is engaged early and is given the opportunity to work together with the State and energy partners; now, therefore,
 BE IT RESOLVED by the House of Representatives of the Twenty-seventh Legislature of the State of Hawaii, Regular Session of 2013, the Senate concurring, that the Governor is requested to engage and work with Lanai, Molokai, and the other neighbor island communities when formulating energy policy and identifying energy projects for the State of Hawaii; and
 BE IT FURTHER RESOLVED that certified copies of this Concurrent Resolution be transmitted to the Governor, Chairperson of the Public Utilities Commission, Mayor of each county, Executive Director of I Aloha Molokai, Friends of Lanai, Lanaians for Sensible Growth, Kupaa No Lanai, and Lanai Cultural and Heritage Center.
YOUR TESTIMONY IS NEEDED TODAY BEFORE 2 PM!
The State of Hawaii House of Representatives joint committees on Energy and Environmental Protection and Consumer Protection and Commerce will be hearing HCR 189/HR 150.   This Resolution urges the Governor and Public Utilities Commission to seek alternatives to the windmills and undersea cable proposed for Molokai and Lanai.   A group of I Aloha Molokai members along with members of Friends of Lanai will be traveling to Oahu tomorrow to testify in person.  Please help us by emailing, faxing or calling in your testimony!  See below for the actual Legislative posting of this important Resolution.
HOUSE OF REPRESENTATIVES
THE TWENTY-SEVENTH LEGISLATURE
REGULAR SESSION OF 2013
Rep. Chris Lee, Chair
Rep. Cynthia Thielen, Vice Chair
| | |
| --- | --- |
| Rep. Denny Coffman | Rep. Derek S.K. Kawakami |
| Rep. Ty J.K. Cullen | Rep. Nicole E. Lowen |
| Rep. Cindy Evans | Rep. Richard Lee Fale |
| Rep. Faye P. Hanohano | |
Rep. Angus L.K. McKelvey, Chair
Rep. Derek S.K. Kawakami, Vice Chair
| | |
| --- | --- |
| Rep. Della Au Belatti | Rep. Ken Ito |
| Rep. Tom Brower | Rep. Chris Lee |
| Rep. Rida T.R. Cabanilla | Rep. Clift Tsuji |
| Rep. Romy M. Cachola | Rep. Ryan I. Yamane |
| Rep. Mele Carroll | Rep. Bob McDermott |
| Rep. Cindy Evans | Rep. Cynthia Thielen |
| Rep. Sharon E. Har | |
NOTICE OF HEARING
| | |
| --- | --- |
| DATE: | Wednesday, April 10, 2013 |
| TIME: | 2:00 p.m. |
| PLACE: | Conference Room 325 |
State Capitol
415 South Beretania Street
A G E N D A
| | | |
| --- | --- | --- |
| HCR 189 / HR 150Status / Status | URGING THE GOVERNOR AND THE PUBLIC UTILITIES COMMISSION TO SEEK ALTERNATIVES TO THE INDUSTRIAL WIND GENERATION FACILITIES AND INTERISLAND HIGH-VOLTAGE UNDERSEA ELECTRIC TRANSMISSION CABLE SYSTEM PROPOSED FOR THE ISLANDS OF MOLOKAI AND LANAI. | EEP/CPC |
| | | |
DECISION MAKING TO FOLLOW
Persons wishing to offer comments should submit testimony at least 24 hours prior to the hearing.  Testimony should indicate:
Testifier's name with position/title and organization;
The Committee(s) to which the comments are directed;
The date and time of the hearing; and
Measure number.
While every effort will be made to incorporate all testimony received, materials received on the day of the hearing or improperly identified or directed, may be distributed to the Committee after the hearing. Those wishing to provide oral testimony will be limited to three minutes.
Submit testimony in ONE of the following ways:
PAPER:  3 copies (including an original) to Room 443 in the State Capitol;
FAX:       For testimony less than 5 pages in length, transmit to 808-586-6481 (Oahu) or 1-800-535-3859 (for Neighbor Islander without a computer to submit testimony through the website); or
WEB:     For testimony less than 10MB in size, transmit from http://www.capitol.hawaii.gov/submittestimony.aspx.
Testimony submitted will be placed on the legislative website after the hearing adjourns.  This public posting of testimony on the website should be considered when including personal information in your testimony.
If you require special assistance or auxiliary aids and/or services to participate in the House public hearing process (i.e., sign or foreign language interpreter or wheelchair accessibility), please contact the Committee Clerk at 586-9450 or email your request for an interpreter to HouseInterpreter@Capitol.hawaii.gov at least 24 hours prior to the hearing for arrangements.  Prompt requests submitted help to ensure the availability of qualified individuals and appropriate accommodations.
Selected meetings are broadcast live.  Check the current legislative broadcast schedule on the "Capitol TV" website at www.capitoltv.org or call 536-2100.
| | | |
| --- | --- | --- |
| ________________________________________Rep. Angus L.K. McKelveyChair | | ________________________________________Rep. Chris LeeChair |
| | | |
Thursday, March 14th, 2013 By Molokai Dispatch Staff
Rep. Carroll Speaks Out Against Wind Turbines and Cables
Office of Mele Carroll News Release
Rep. Mele Carroll (13th District) voiced many Molokai residents' concerns in Honolulu today, urging the Governor and the public utilities commission to find alternatives to proposed wind turbines and undersea cables on the island. Carroll introduced House Concurrent Resolution 189, which urges that island-specific alternatives be considered in order to reduce negative impacts
on Molokai and Lana`i.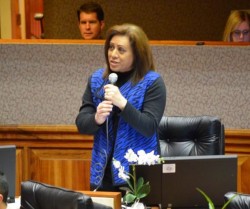 "The message from both Lana`i and Molokai residents is very clear – no wind turbines, no undersea cables," Carroll said. "I have been meeting with both islands' community leaders, and as far as they are concerned, the potential risks that turbines and undersea cables pose outweigh the possible benefits."
Act 165 of Hawaii Session Laws in 2013 authorizes the development and construction of an interisland high-voltage undersea cable to connect the wind turbines, providing energy to residents of Oahu from other islands. Carroll pointed out that although the Act authorizes construction, there is no requirement for it. In addition, Resolution 189 outlines the general safety concerns wind turbines pose to nearby residents and wildlife as well as the negative aesthetic impact on the natural beauty of the landscape.
"The residents wish to preserve the uniqueness and the beauty of their islands as natural resources, which have become an important symbol and an essential part of their everyday lives," Carroll said. "As their representative, I must assist them in voicing their opinions and a Concurrent Resolution, which passes through review of both the House and Senate and would require the State to look at other energy alternatives on the two islands. This resolution represents an important step in residents expressing their views about how they want to live on islands that are experiencing the ever-growing outside forces of change.
Please phone and write your legislators to support this important Resolution! 
Thank you Representative Carroll
—————————
March 30, 2013
Celebrate Our Way of Life
Feel the Beat in the Heart of Maunaloa
All are invited to come to IAM/Molokai Ranch's community potluck celebration at Maunaloa Rec Center on Staurday, March 30th at 1 p.m.
With the Ranch's decision to put a halt to the Big Wind Project, we celebrate the saving of our abundant Hawaiian Historical sites, the environment, the health of our people and the animals which share our 'aina.
Bring your family, friends and your favorite dish or desert.  The main dishes of venison and lamb will be provided.
You are welcome to bring your musical instruments for some grass roots sharing of entertainment, kanikapila, Molokai style!
~~~~~~~~~~~~~~~~~~~~~~~~
View our latest film:  Perhaps
______________________________________________________
Molokai Big Wind Deal Falls Apart
By Sophie Cocke 02/07/2013
Sophie Cocke/ Civil Beat
The owners of Molokai Ranch have backed out of plans to lease thousands of acres of land to a large-scale wind farm developer.
The decision likely spells the end for the Molokai portion of the Big Wind project, an ambitious plan to build about 70 wind turbines on both Molokai and Lanai and bring the electricity to Oahu via undersea cables.
Clay Rumbaoa, CEO of Molokai Properties Ltd., commonly known as Molokai Ranch, said in a statement to Civil Beat that the company has broken off negotiations with Molokai Renewables, the wind farm developer, and is focusing on its ranching operations instead…. read the full story
Films of IAM's 2nd Annual Energy Festival are now available for viewing on the I Aloha Molokai Channel on YouTube. There are seven in all:
Mahalo to all who participated and attended!
—————————————————–
NO WIND TURBINES and NO CABLE
The message to HECO/MECO was clear No Wind Turbines and No Cable on Molokai and Lanai.
Over 40 people attended the Molokai meeting and many voiced their concern about the process. Represented were many IAM members. The signatures of thousands of Molokai residents, visitors to Molokai, and concerned individuals from around the world were submitted by IAM.   Click on the image above to view the film.
Mahalo to everyone who attended and support our efforts.
—————————————————–
Please check back regularly for updates.

Visit our Channel, watch our films, and subscribe.
—————————————————–
At last week's OHA meeting, Kanoho Helm gave a presentation which included the IAM films on proposed windmill/undersea cable project. He also summarized the IAM opposition efforts and outlined the wider scope of IAM activity focusing on alternative energy sources for Molokai and community education.
.
—————————————————–
Report on Molokai Energy Future
We couldn't have said it any better than  Henry Curtis has done in Life of the Lands's Wayfinding: Navigating Hawai'i's Energy Future.
Chapter 7  – Moloka'i . presents a wealth of ideas for allowing Moloka'i to become energy independent.  Chapter 8 covers Lana'i.
Please click here to read what Henry has to say.
.
—————————————————–